Knausgård Ventures AS is a privately owned venture and consultancy company. We are currently investing in establishing activity within property sales in Spain as well as the import of premium olive oil into Scandinavia with the quality brand Aceites Cazorla. K Ventures holds the exclusive distributorship for Norway, Sweden and Denmark. While we establish the brand in Norway, we're currently looking for partners in Sweden and Denmark.

Meet Anne Karin Knausgård
Anne Karin Knausgård is an experienced advisor, project leader and manager. She has been an active key-player within the Oil & Gas Industry and Renewable Energy sector for over 25 years, and holds solid and diverse experience from both the operator and supplier sides, nationally and internationally, including assignments in London and Moscow, and extensive business experience from around the world, Asia and mid-Asia in particular.
Anne is Chair of the Polytechnic Association (PF) Oil Group network. In addition she is Chair of Knausgård Ventures AS since January 2023.
At present, she is fully engaged as Business Development Manager within Aker Offshore Wind since autumn 2021.
Background
Building upon her military background, Anne has successfully overseen mega field developments and projects, on- and offshore such as Troll, Kvitebjørn, Kristin Field, Kårstø, Kårstø Expansion, South Pars (Iran), Dogger Bank Zone (UK) among others. She has worked for Statoil for 14 years – including the establishment and operation of new organisations in newly established companies and partner-operated activities – and AS Norske Shell for 5 years.
Anne holds heavy experience from the supplier industry from Kværner Engineering AS, an established EPC company known for development projects, new builds and complex modifications for offshore and onshore installations. She also has experience from EMAS AMC, a subsea EPC service provider taking responsibility for a total subsea scope of work including rigid pipe laying projects. As Vice President of Project Services, Anne built up the project service organisation and functions for cost control, planning, document control, risks (commercial and technical), contracts and SCM.
Personal qualities
Anne is business oriented and focused on effective and competent organisation, cost & resource effective processes and tools, and motivated & energised people to ensure quality, profit and sustainability. She has a high integrity and work moral, and is both flexible and adaptable. She is capable of handling high pressure and workloads, is proactive, systematic and results- and solution driven.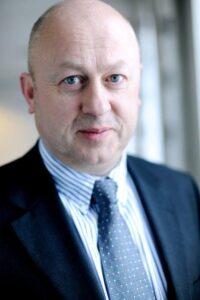 Meet Magne Svendsen
Magne holds extensive management experience within Suppy Chain Management and Change Management. After finishing studies at Bedrifts Økonomisk Institutt in Norway, he joined Scandinavian Airlines and has since built an extensive management careeer within several companies.  He has also spent time in The Netherlands working for UNITOR Ships Service early on in his career, with the last 21 years dedicated to Kverneland Group (subsidiary from Kubota) having had the responsibility as Executive Vice President for the Business Area After Sales and Service most of this time. During this time he also held additional roles such as Vice President for the Crop Care Business from 2012 to 2017, a Business Area based near Amsterdam. Magne was also responsible for the Kverneland Plough Factory in Klepp, Norway, from 2017 to 2019, as well as the Central IT department. Many of these roles were "turn-around" cases for some years until a more permanent manager could be put in place.
Does your company need an experienced advisor or execution of a specialist task?
Get in touch to discuss your requirements and to review options.